A nice sunny evening and a colleague and I took a trip from Eindhoven, where we were at a conference, to visit the two towns of Baarle-Nassau (Netherlands) and Baarle-Hertog (Belgium). While we didn't see all the border attractions in the town we did manage to walk around and spot a few interesting places that I captured on the video below.
To help you navigate around I have included captions for the different streets and here is a local map showing Belgium in yellow and the Netherlands in white. You can click on it for the full size image (about 2MB).
The enclave to the south of town that we visited was H17 - here is a map from the wonderful website
http://www.grenspalen.nl/archief/index.html
, where you will also find lots of other interesting
information about Baarle
and other Dutch borders. The road we drove down, and where the video is taken from, is the small yellow one that passes through the west side of the enclave (twice), not the red one that forms the eastern border of the enclave. The video is taken from the northenmost border crossing point on that road.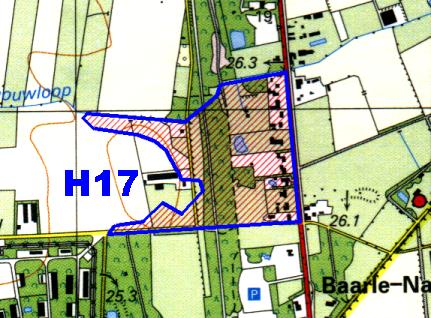 As we were driving south to here from the main part of the town we were passed by two police vehicles with flashing lights, going north. Dutch police in the lead, Belgian police right behind. This got me to wondering about the complexities of policing in this area - I suspect that you typically need to have both police forces operating together to ensure there is appropriate jurisdiction. The idea of the police from one country driving through another country as part of their duty is interesting to say the least.
The video also includes a segment at the end as we drive back to Eindhoven and cross the border from Belgium back to the Netherlands on the main E34 motorway.
To see this video in higher resolution you will need to visit
the YouTube page where it resides
.
I hope this helps to give an idea of this place and that you found it interesting. Please leave comments to help me improve my trip reports for future trips.